Crucial Things Blended Families Need To Consider About Probate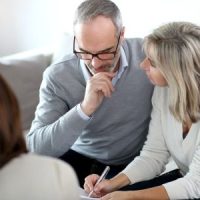 According to research, 16% of children in America live in blended families. A blended family is a family with a stepparent and stepsibling or half-sibling. Being in a blended family can be both a rewarding and a challenging experience. Dealing with the complexities of life can be quite hard for some blended families. For example, dealing with the complexities of probate after someone dies can be quite difficult for a blended family. It is no secret that the probate process is not an easy process for anyone. Administering a deceased loved one's estate while at the same time grieving is not an easy thing. However, the probate process becomes even more difficult for blended families.
The following are some things blended families need to consider about probate.
Emotional Challenges Blended Families Face During Probate
Usually, it is the emotional aspect that leads to the probate process being complex. Emotional factors that blended families need to know about as it pertains to probate include;
More opinions could mean more issues: Often, after a blended family loses a member, many opinions are shared about the best way to administer the decedent's estate. Sometimes, even ex-spouses share their opinion. With different opinions coming from different people, disagreements might arise if the estate plan that the decedent left behind is not clear. 
When grief mixes with the stress over finances, problems can arise: Even when siblings and stepsiblings or half-siblings are on good terms, disputes may arise when grief combines with financial stress. A mixture of grief and financial stress can mean that siblings and stepsiblings or half-siblings are not on the same page as it pertains to how the decedent's estate should be administered. In other words, sometimes disputes arise because of nothing personal.
Many more issues can affect blended families after a loved one dies. However, these two issues play a significant role in complicating the probate process for blended families. Fortunately, there are ways to handle these issues.
How Blended Families Can Handle These Complications
Firstly, after the loss of a loved one, members of a blended family need to have open conversations with each other. Having honest conversations can help prevent disputes among members of a blended family.
Secondly, members of a blended family need to acknowledge that issues could arise and understand what these issues are. When you acknowledge you could face problems and understand these problems, it becomes easy for you to manage issues before matters get out of hand.
Additionally, members of a blended family can handle the complications that arise after the loss of a loved one by retaining the services of a skilled probate attorney. A probate attorney can help members of a blended family understand the issues they are likely to face and manage them before they escalate into disputes. An attorney can help members of a blended family have open and meaningful conversations that can help prevent conflicts. A skilled probate attorney can help members of a blended family through the entire probate process.
Contact The Probate Guy
It is not an easy time when a blended family is facing probate. Fortunately, our attorney is here to help you. Contact the skilled and dedicated California probate attorney, Robert L. Cohen – The Probate Guy – today to schedule a free telephonic consultation.
Source:
pewresearch.org/social-trends/2015/12/17/1-the-american-family-today/