Undue Influence: A List of Red Flags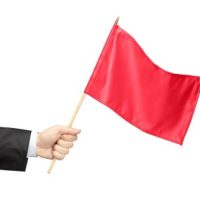 After someone dies, interested parties can contest the decedent's Will. Contesting a Will is the process of disputing a decedent's Will by presenting evidence about why it is invalid according to the law. According to California law, there are several grounds for contesting the validity of a Will. Undue influence is one of the most common grounds for disputing the validity of a Will in California.
What Is Undue Influence?
Generally, undue influence happens when a person in a position of trust or authority manipulates the testator during the creation of the Will. Undue influence occurs when someone uses manipulative tactics or actions to convince the testator to make or change their Will in favor of them (the influencer). Unfortunately, undue influence is often not discovered until after the passing of the testator and beneficiaries are shocked to learn they have inherited less than anticipated.
Red Flags That Could Indicate Undue Influence
A good place to start if you suspect your deceased loved one was a victim of undue influence is thinking about situations and things that appear "suspicious." The following is an in-exhaustive list of situations and things that might be suspicious, and that might indicate your deceased loved one was a victim of undue influence;
A gift was made to someone with whom your loved one had a close relationship but which was not known by the family;
Your loved one's Will significantly deviates from previous Wills;
A gift was made to a beneficiary to whom your loved one had no close relationship;
A gift was made to someone who was in a position to influence your loved one;
An unpopular gift was made to a beneficiary who, according to everyone left behind, should not receive the gift;
A gift was made to a person standing in a fiduciary relationship;
The division of assets among your loved one's children is substantially unequal;
A particular child or particular children are harshly treated;
Your loved one had a severe medical condition or was hospitalized;
Your loved one entered into a hasty or unwise marriage;
A particular beneficiary accompanied your loved one each time to the Will-drafter's office during the process of creating the Will;
A particular beneficiary was always present when your loved one had interactions with family or friends;
Your loved one always checked in with a particular beneficiary before making any decisions;
Your loved one made accusations about family members that seem to have been fed to them.
Proving undue influence can be challenging, but a skilled probate attorney can help you review your case and gather the evidence needed to prove undue influence. If you believe your deceased loved one was a victim of undue influence, it is crucial that you seek the help of a qualified probate attorney as soon as possible. There is a statute of limitations for filing a Will contest in California. You have 120 days from the date the Will was admitted to probate to file your Will contest. It is also not a good idea to wait to file a Will contest because evidence might get lost or destroyed.
Contact the Probate Guy for Legal Help
If you believe your deceased loved one was a victim of undue influence and need help proving their Will is invalid, contact the dedicated California probate attorney, Robert L. Cohen – The Probate Guy – today to schedule a telephonic consultation.
Southern California Probate Lawyer Serving Orange, Riverside, Anaheim, Whittier & Beyond.
Source:
leginfo.legislature.ca.gov/faces/codes_displaySection.xhtml?lawCode=PROB&sectionNum=8252