What Makes a Will Valid in California?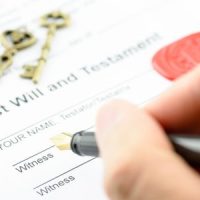 In California, creating a Will is one of the easiest ways for a person to ensure their loved ones are well taken care of after their passing. However, not all Wills are valid or enforceable in California. After someone dies, their Will is admitted to probate, and its validity is determined. Probate is the court-supervised process completed when someone dies and leaves assets to be distributed to their loved ones. When a Will does not meet the requirements outlined under California law, the probate court may deem it unenforceable or invalid. If you recently lost a loved one in California, you may be wondering, "So what makes a Will valid in California?" Below is a look at some of the requirements your loved one's California Will must meet for the probate court to consider it valid and, thus, "probatable."
Your Loved One's Will Must Be in Writing
One of the requirements under California law is that a Will must be in writing for it to be enforced. In California, an oral Will is not valid. A valid Will in California is one that is hand-written or typed.
Suppose your loved one's written Will contains changes. For example, suppose your loved one's typed-out Will contains hand-written changes. You may wonder what happens in such a situation. In such a situation, the probate court will most likely enforce the changes if your loved one signed the changes they made and there are witnesses' signatures. If the testator never signed the changes or the changes were done incorrectly, the court will most likely declare the Will invalid.
Your Loved One Must Have Signed the Will
A California Will is only valid if it contains the testator's signature. For your loved one's Will to be considered valid, it must contain your loved one's signature. There also must be a date of when the Will was signed. If your loved one typed their Will or had it prepared by another person, the Will must contain your loved one's signature and the signatures of at least two witnesses.
The Will Must Have Been Prepared When Your Loved One Was at Least Eighteen Years Old
In California, a testator must be at least eighteen years old when signing the Will. Additionally, they must be of sound mind and memory. If your loved one was not at least eighteen years old or of sound mind and memory when signing their Will, an interested party might contest the Will during the probate process. Being of sound mind and memory generally means that your loved one was in a position to reason, think, and understand the Will. It means your loved one understood what possessions they owned, their relationship with beneficiaries, and the meaning and effect of the Will.
The Will Must Identify Beneficiaries
For your loved one's will to be valid, it must specifically identify the property to be distributed to specific people. The language in the Will must identify which beneficiary receives what. If your loved one's Will contains language that could be interpreted in many ways, issues could arise.
The Will Must Contain Precise Language
Finally, your loved one's Will must contain precise language for it to be considered valid. Every section in the Will, and not just bequests, must be clear to understand.
Contact the Probate Guy for Legal Help
If you need help with the probate process, contact the skilled and dedicated California probate attorney, Robert L. Cohen – The Probate Guy – today to schedule a telephonic consultation.
Southern California Probate Lawyer Serving Orange, Riverside, Anaheim, Whittier & Beyond.