Estate Planning Amidst A Pandemic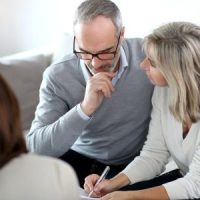 Estate planning is important on any given day, but it has proven to be important during a pandemic. The world has been living in uncertainty because of COVID-19 since 2019. Amid the climate of uncertainty surrounding the pandemic, people of all ages have been forced to grapple with the difficult subject of estate planning and are not taking chances. In the United States specifically, COVID-19 has spread rapidly. So far, more than 36 million people have tested positive for COVID-19, and more than 600,000 have died from the fatal viral infection. What once seemed like a disease mainly affecting the elderly and those with underlying health issues has been revealed to affect people of all ages and even people with no underlying health issues. Thinking about the possibility of dying from COVID-19 has led and continues to lead many people to seek calmness through estate planning.
Even if you don't have a fortune, you should consider estate planning amid the pandemic. Unfortunately, many individuals assume they do not own enough assets to warrant estate planning. Others believe that their assets will automatically go to their next of kin after their passing. Don't allow such assumptions to prevent you from taking the necessary steps you need to take to exert more control over your future and that of your assets and loved ones. The reasons to have an estate plan are not dependent on income, and if you die without an estate plan, the laws of intestacy will apply. Also, remember that estate planning covers more than just what happens to your assets after your death. A good estate planning document can help ensure that your wishes are carried out if you become incapacitated by COVID-19.
An example of an estate planning document you might want to consider creating during a pandemic is a health care power of attorney. This document is important under any circumstance, especially during a pandemic. With a health care power of attorney, you can authorize someone you trust to make crucial health care decisions on your behalf.
A will is another estate planning document you may want to consider creating during a pandemic. With this estate planning document, you can decide how your assets will get divided after your death. For example, if you wish to give some of your assets to loved ones and others to charity, you can ensure those wishes are fulfilled by creating a will. Also, with a will, you can appoint a guardian for your minor child, if you have one, and designate the executor you want to be in charge of administering your estate after your passing.
For those who still feel that estate planning is for the elderly or elite or feel confused by misconceptions, it is crucial that you speak to a skilled estate planning attorney to learn the importance of estate planning. An experienced estate planning attorney is your best option when it comes to ensuring you understand everything there is to understand about estate planning, even though online resources are available.
Contact The Probate Guy for Help
If you are in California and ready to get started with estate planning or need more information on the importance of estate planning, contact the dedicated California probate attorney Robert L. Cohen – The Probate Guy – today to schedule a free telephonic consultation.
Resources:
abcnews.go.com/Health/coronavirus-leads-surge-wills-thinking-mortality/story?id=69874540
penntoday.upenn.edu/news/estate-planning-vital-during-pandemic